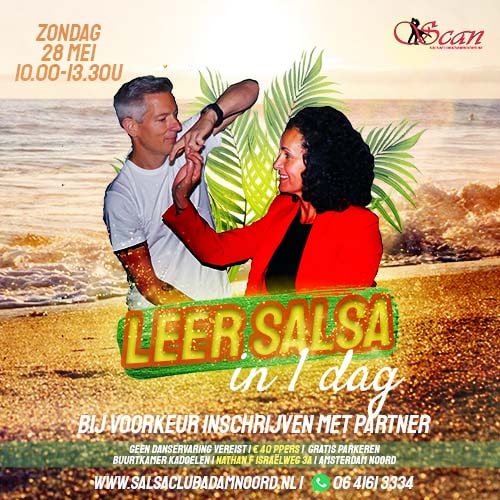 Heb je nog nooit Salsa of een andere dans gedaan?
Heb je wel eens gedanst, maar nooit Salsa?
Of heb je in een grijs verleden wel eens een Salsa cursus gevolgd, maar zou je het echt niet meer precies weten?
In Amsterdam Noord kan je in 1 dag de basis technieken van de Salsa leren!
Geschikt als je totaal geen danservaring hebt, maar ook heel fijn om in een dagje op te frissen.
Je leert de basistechnieken van de Salsa, over leiden en volgen, maar ook over de geschiedenis van de Salsa en de muziek.
zondag 28 mei
10.00-13.30 uur
Buurtkamer Kadoelen, Nathan F Israëlweg 3a, Amsterdam Noord.
Docente is Vanessa Mambi, de Salsa Diva van Nederland.
Zij wordt nationaal en internationaal geroemd om haar kennis, elegantie, techniek, ontspannen manier van lesgeven en prachtige shows.
bijdrage: € 40 per persoon. Bij voorkeur inschrijven met partner.
Meer informatie en inschrijven? KLIK HIER